3 May 2021
If you're planning a vacation to Yellowstone National Park, Grand Teton National Park, or Jackson Hole, we understand that it can seem overwhelming trying to decide where to stay, but if you want to experience everything this vast region has to offer, we have the perfect location for you. Whether you're most excited about hiking, rafting, fishing, kayaking, horseback riding, mountain biking, wildlife watching, or simply relaxing on your well-deserved vacation, Teton Village, Wyoming is the perfect jumping-off point for all regional adventures, and Jackson Hole Resort Lodging's vacation rental properties in Teton Village offer the ideal home away from home during your vacation.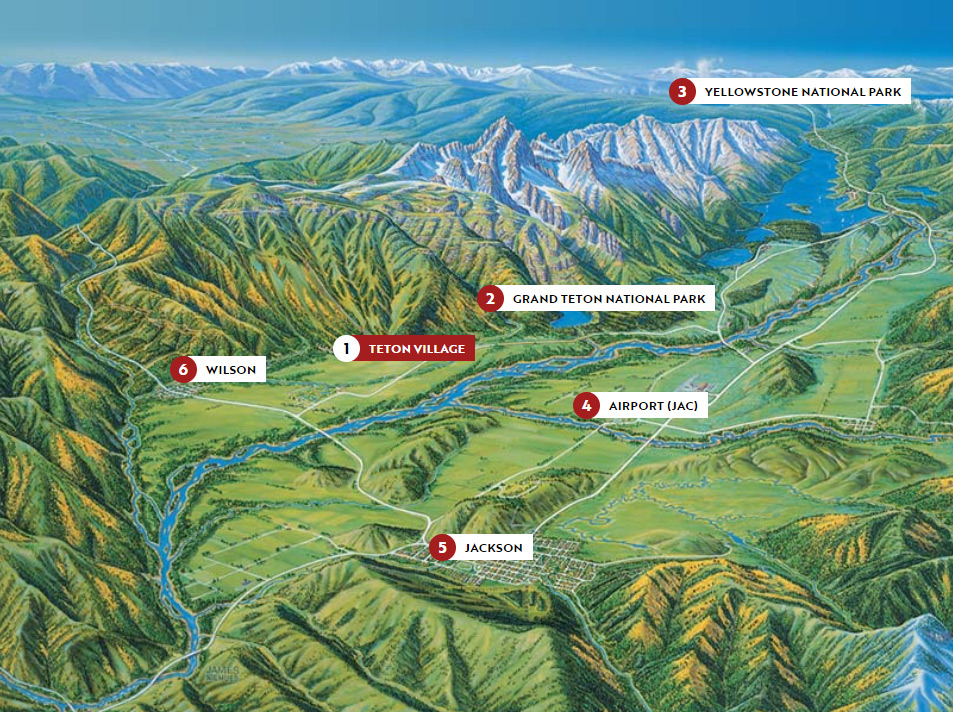 Located in the heart of the Greater Yellowstone Ecosystem, Teton Village is the gateway to both Grand Teton and Yellowstone National Parks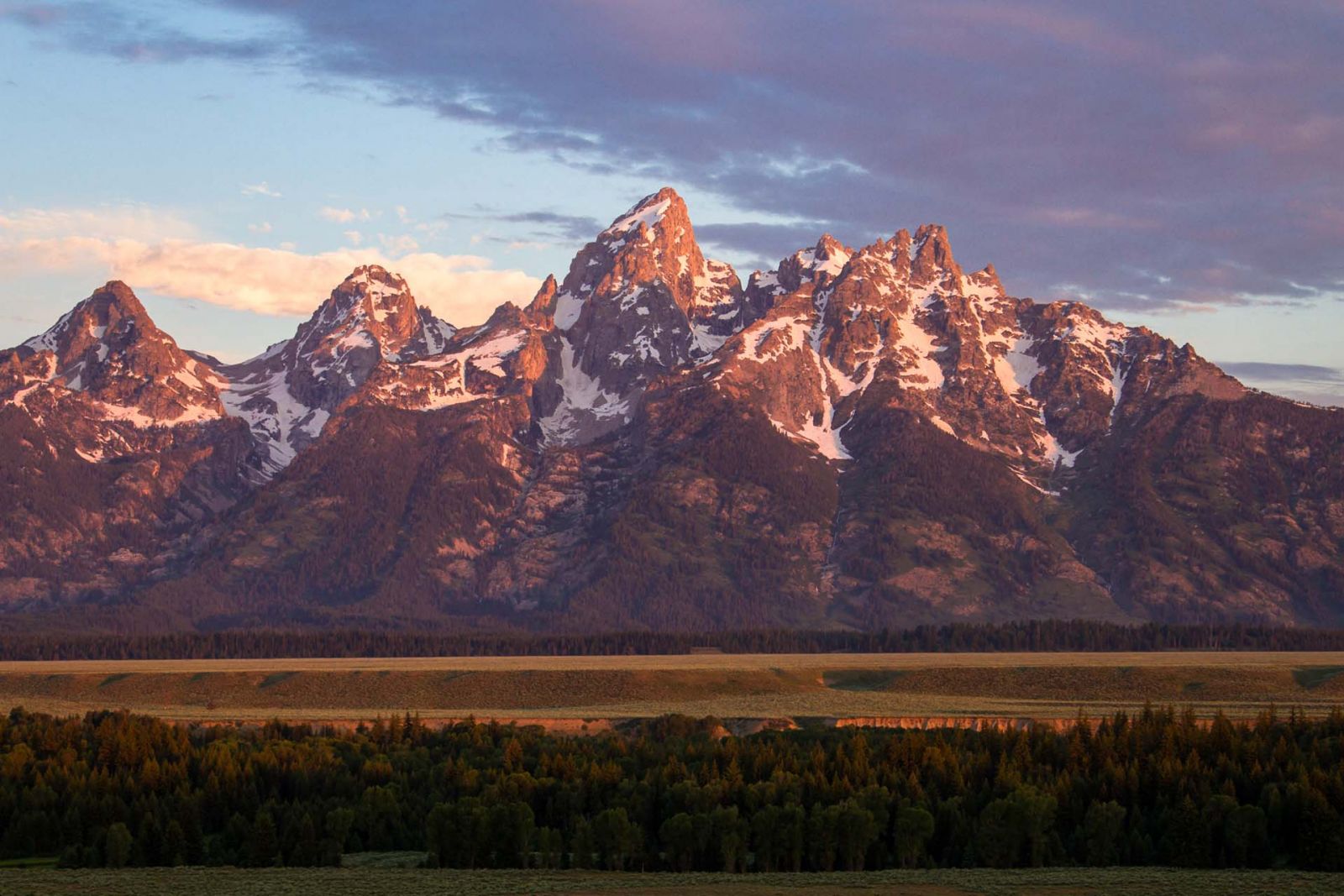 There's no need to choose between staying near Yellowstone or staying near Grand Teton National Park; our vacation rentals in Teton Village position you as close as possible to the best hiking trails, the vast glacial lakes, and the towering granite peaks of this stunning wilderness. Teton Village is located just 1 mile from the Granite Canyon Entrance Gate of Grand Teton National Park; the road from Teton Village leads you directly into the heart of Grand Teton National Park—past Phelps Lake and the Laurance S. Rockefeller Preserve Visitor Center, through the prime wildlife habitat along the Moose-Wilson Road, and up to the Inner Park Road, where you'll find classic hiking, boating, and sightseeing destinations such as Jenny Lake, String Lake, and Jackson Lake, or scenic rafting trips on the Snake River. Yellowstone National Park is located approximately 1.5 hours north of Teton Village by car, and the entirety of the drive to Yellowstone winds through the breathtaking scenery of Grand Teton National Park. The Lower Loop Road of Yellowstone can be driven as a day trip, stopping at the most famous attractions the park has to offer, such as Old Faithful Geyser, Grand Prismatic Hot Springs, The Grand Canyon of the Yellowstone, Yellowstone Falls, wildlife-rich Hayden Valley, Yellowstone Lake, and more! Enjoy Yellowstone during the day, and return home in the evening to comfortable, spacious accommodations in the evening. Adventure-seekers and wildlife enthusiasts can bypass the traffic and crowds of other nearby lodging options by launching their national park adventures directly from Teton Village.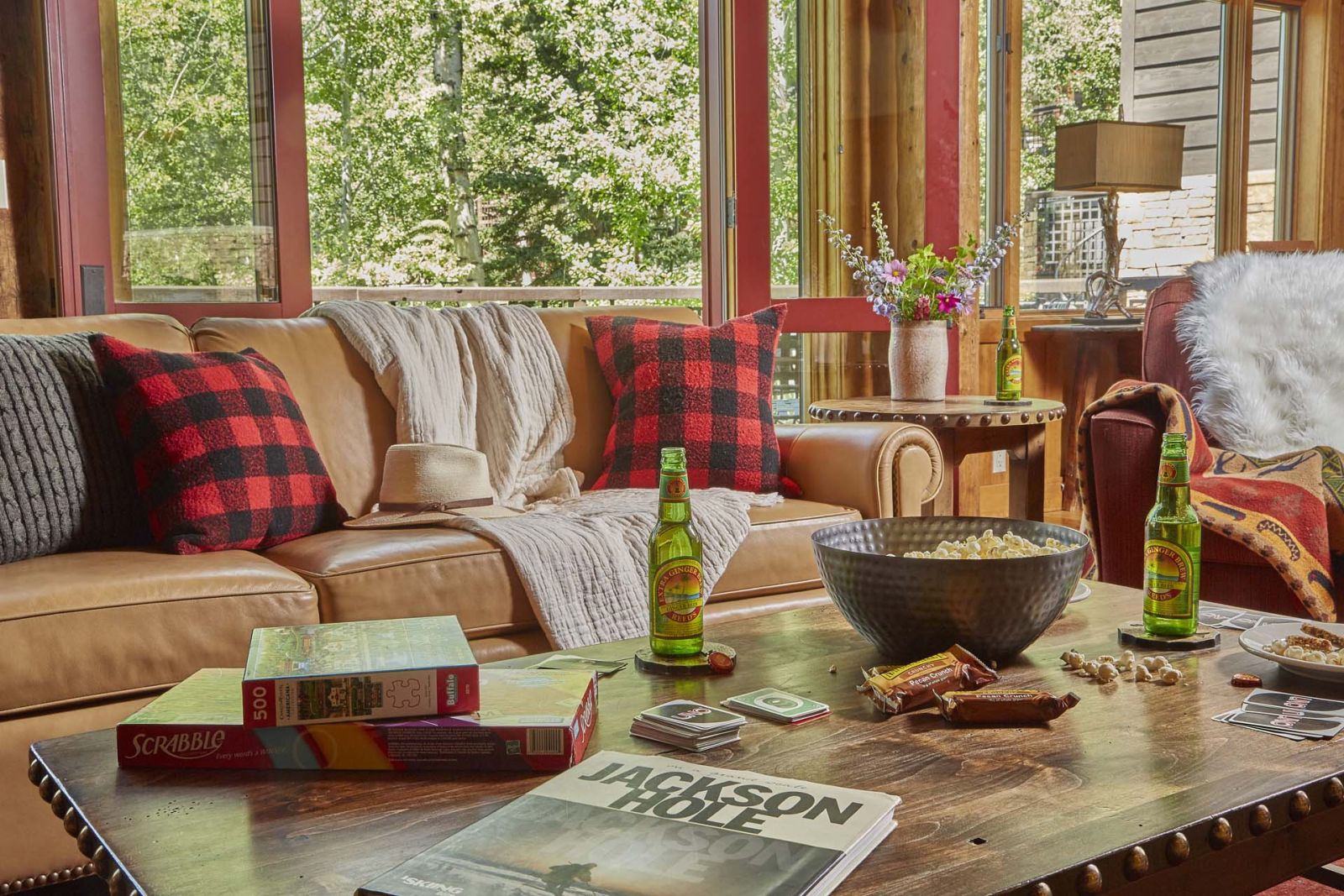 Staying in a spacious Teton Village home or condo while visiting Jackson Hole provides all the comforts of home while on vacation, and it serves as the ideal basecamp for your daily adventures in the National Parks. You will have a kitchen in which to make meals at the beginning and end your days. A living room will encourage you to unwind, play games, and spread out to watch movies. Many properties feature patios or balconies where you can take in the fresh mountain air with family and friends. Unlike hotel or motel rooms, you will have separate spaces to allow everyone in your party to spread out and enjoy privacy after you return from a busy day of exploration. Rather than spending a couple days in several locations in the Greater Yellowstone Region and moving around constantly, take it easy and settle into one property that you can happily call your home base. Booking a condo or home in Teton Village offers the ultimate, most relaxed vacation experience, and compared to hotel options, it offers you the best lodging experience for your money, at a lower price per bed.
Book Now
Enjoy a wide variety of Teton Village activities right at your doorstep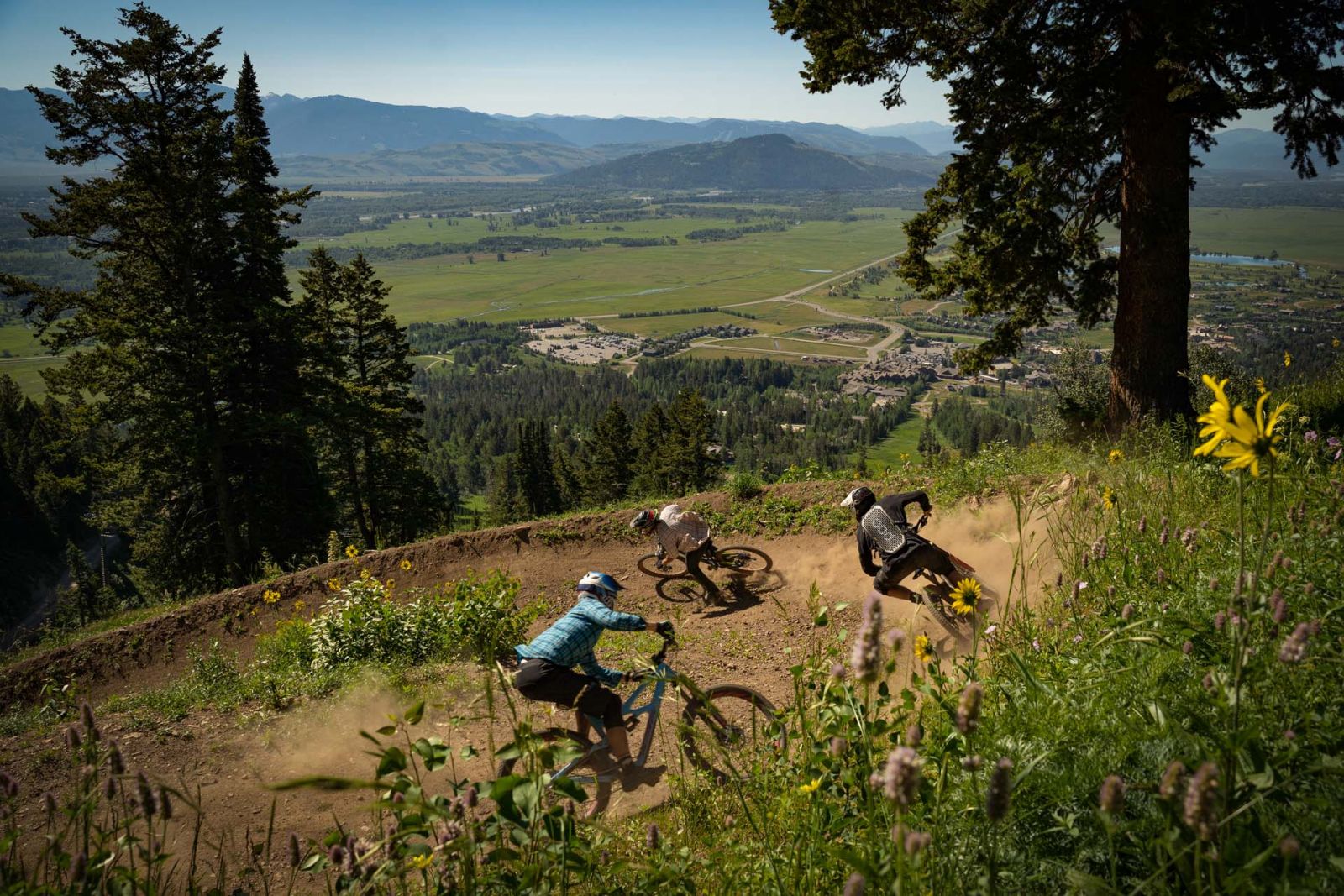 Located at the base of Jackson Hole Mountain Resort, Teton Village offers activities, restaurants, events, and shopping to entertain and sustain visitors throughout the year. Jackson Hole Mountain Resort's summer activities include mountain biking (bring your own bike or rent a bike from Jackson Hole Sports), guided rock climbing on the Via Ferrata, free concerts on Sunday evenings in the Village Commons, and a not-to-be-missed alpine disc golf course, plus much more. The Bridger Gondola takes visitors to a great scenic overlook high up on Rendezvous Mountain, where you'll see Grand Teton National Park spread out below you, with panoramic vistas of the Teton Mountain Range, the Absaroka Mountain Range, The Wind River Range, the Gros Ventre Range, and the Wyoming Range; it's an unforgettable sight to behold. The resort boasts a wide variety of hiking trails accessible from the backyards of our properties; go for a post-dinner stroll or a quick trail run in the morning, all without having to hop in the car. From any of our properties, you can walk to popular restaurants such as The Spur Restaurant, Il Vilagio Osteria, The Mangy Moose Saloon, Teton Thai, and more. Downtown Jackson is only a 20-minute drive away when an attraction calls, but staying in Teton Village offers a more relaxed resort experience, more space to roam, and plenty of peace and quiet, far away from traffic and crowds.
Position yourself for easy access to all of the must-do activities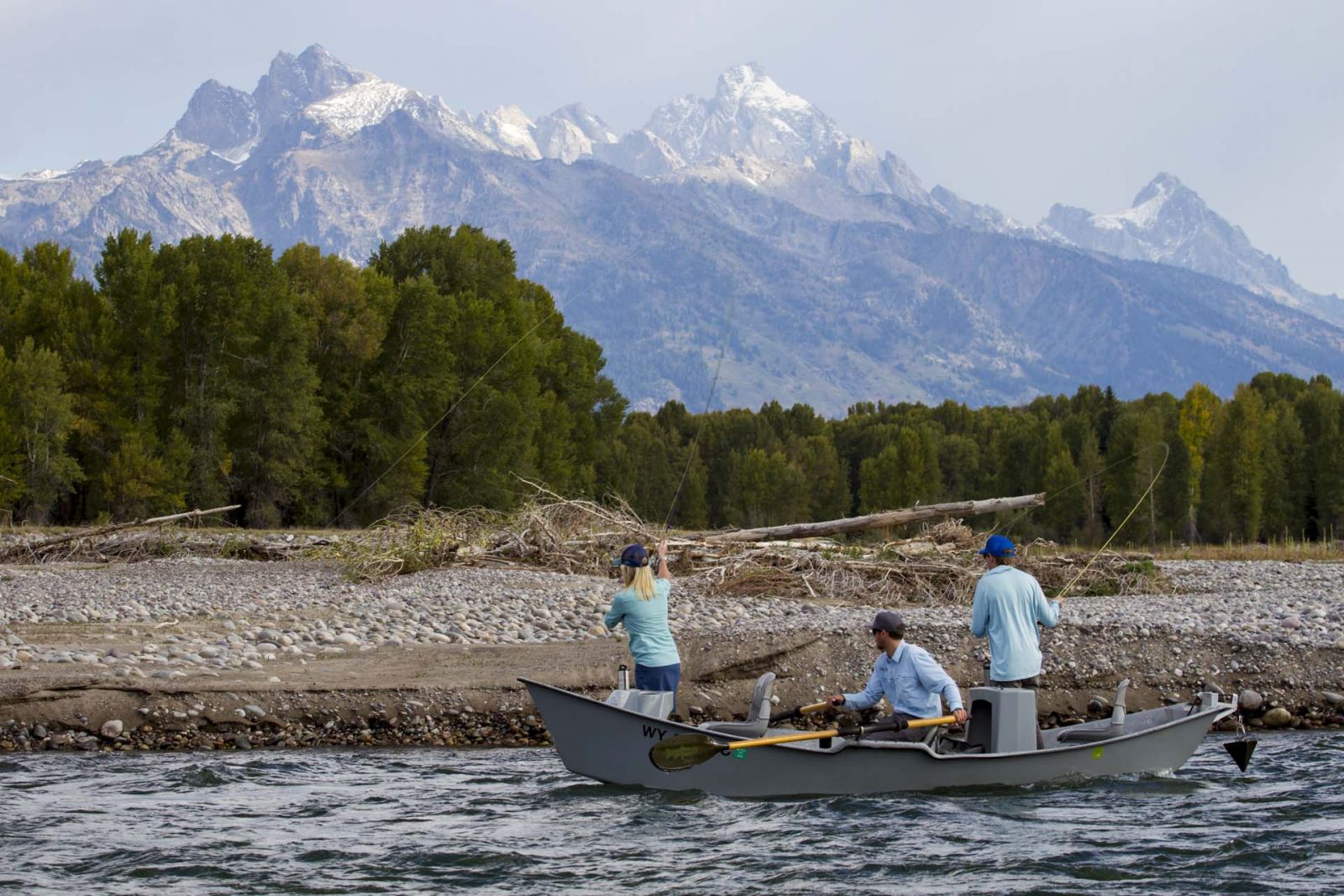 Within a 45-minute radius of Teton Village, you'll find countless outdoor activities for wilderness enthusiasts, and staying in Teton Village positions you perfectly to take advantage of these opportunities with ease—no matter where they're located in this valley. Float the Snake River, fly fish with a guide, enjoy a guided wildlife safari, and take a horseback ride for views of the Tetons at one of the nearby dude ranches. You will never run out of things to see or do in the greater Jackson Hole region, so stay longer to see everything the region has to offer; even after a week-long visit, you'll already be planning next year's return trip.
What about condos and homes in The Aspens?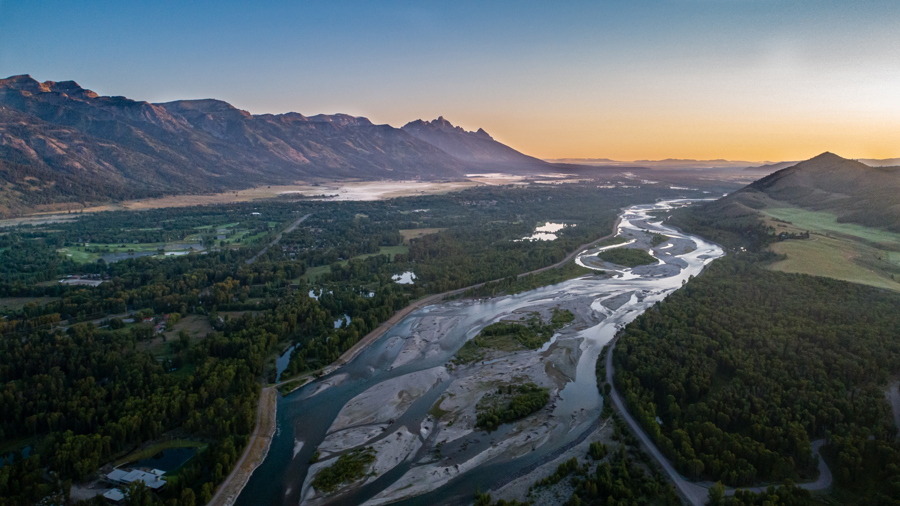 We also have a variety of vacation rentals in The Aspens, a neighborhood located 5 minutes South of Teton Village, and our guests in The Aspens offer many of the same advantages as Teton Village, but with its own unique charms. Our condo buildings in the Aspens are widely spaced, with plenty of open space, meadows, forests, and streams throughout the neighborhood, and our guests in the Aspens often report sightings of moose and other local wildlife right in their backyards. Compared to Teton Village, staying in the Aspens adds 5 minutes of driving time to enter Grand Teton National Park, and it doesn't have quite the same number of activities accessible within walking distance, but you'll also enjoy even more peace and quiet in this beautiful neighborhood. Rest assured, all of Jackson Hole Resort Lodging's properties will offer you an unforgettable guest experience during your vacation, and we look forward to hosting you this summer season.
If you're ready to find the perfect vacation rental with Jackson Hole Resort Lodging, call one of our vacation specialists at 800.443.8613 today, or visit our Vacation Rentals page to search for available properties during your preferred travel dates.