19 Mar 2019
On the heels of a record February snowfall, March is here and spring has officially sprung in Jackson Hole. One of my favorite mountain activities, once the sun pops out (besides skiing of course), is paragliding.   I've been a certified solo pilot for about 6 years now.  Traditionally paragliding is more of a summer pastime, but there are usually a few days in the winter and spring when the conditions are just right for flying at the resort. 

There are two main launch sites in Teton Village: at the top of the Bridger Gondola, and the summit of Rendezvous Mountain at top of the Aerial Tramway.  At over 4,100 feet above the valley floor, the summit launch is exactly where a paraglider wants to be when conditions are good.  Ideally, you want steady winds of between 5-15mph straight up the mountain to launch safely.  
It only takes about 5 minutes to survey the scene and get set up.  I always choose an open space away from rocks, trees, people, or any other obstacles.  I lay out my wing, which is mostly made of nylon and strings that connect to my harness.  I throw on my helmet and gloves and clip into my harness, which looks like a large backpack with a seat incorporated into it.  I double and triple-check that everything is connected properly and that no tangles or knots exist in my risers or brake lines.  I check the indicating windsocks, which should be blowing lightly up the hill. After taking a deep breath and I start walking forward down the hill, toggles in hand.  My wing quickly inflate behind me, and after just a few steps I'm off the ground.  I lean back into my harness and feel the earth begin to descend below me.  Just like that, I'm flying.

When the winds are light, a normal flight from the top is about 15-25 minutes to the landing zone at the base of Teton Village.  However, sometimes there are thermal winds in the air which create lift, extending the overall flight time.  I think most paragliders would agree with me that long flights are better than quick flights.  Locating these thermals and soaring back and forth along the ridge tops is quite an exhilarating feeling.
I also enjoy being able to scope out ski lines from an aerial perspective.  One of my go-to routes is flying off Rendezvous Bowl, out beyond the resort boundary, past the massive Rock Springs Buttress, over Green River Canyon, and back into the Hobacks towards the LZ.  Having this unique aerial vantage point is super fun and something I highly recommend.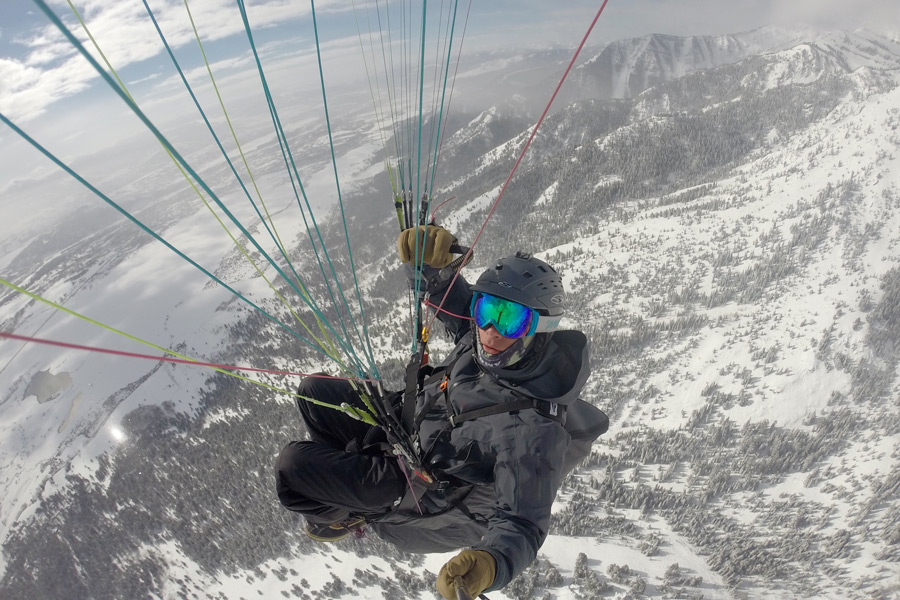 As a guest visiting Jackson Hole, you can still enjoy this activity with a tandem flight. It's a once in a lifetime experience that I recommend and you will not regret it! Contact Jackson Hole Paragliding at 307-739-2626 to book a tandem flight today.