1 Jul 2019
With summer kicking off, the bike trails are now open in Teton Village! Last week I was invited to go out and experience mountain biking. While Tony, my co-worker, had gone a few times before in Mammoth CA, I had never been in my life and was extremely nervous. The most biking I'd ever done was on a beach cruiser down a quiet neighborhood sidewalk. 
We arrived at JH Sports and they outfitted us in all the necessary gear. Tony and I looked similar to the teenage mutant ninja turtles. The staff was extremely helpful in alleviating my fears by instructing me on the best methods of slowing down and turning, and by showing me which trails would be suited to my skills (or lack thereof).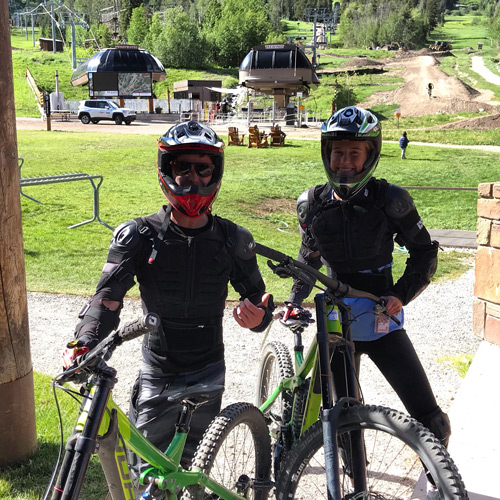 All the trails start the Teewinot lift. Bikers load their bike onto the back of the lift and are dropped off at the starting point, where you can choose from a variety of paths ranging from easy to difficult. I went down the two easy paths a few times while Tony ventured to more expert routes. Tony learned that charging a line on a mountain bike is very similar to how it feels on a snowboard. I learned that it's not too scary with a little caution (and it's actually pretty fun). All the trails are quite beautiful, as they take you through looping routes in the woods, over creeks, and under other gondolas. 

The runs range from a 10-minute hot lap to a 30-minute cruise, depending on your preferences. Tony and I explored the trails for about an hour and a half before our legs got to shaky to continue. Because hiking is the most extreme activity I've done this summer in the Tetons, I never expected to try out downhill mountain biking down the steepest ski resort in North America; however, I did thoroughly enjoy it and would encourage folks of all experience levels to give it a try.
Give us a call at 800.443.8613 or visit us at jhrl.com to book your next family vacation in Jackson Hole.